Hydrographic Processing Chemicals
Hydrographic Water Transfer Printing Film Activator
Liquid Print's proprietary line of hydrographic chemicals and paints have been specially developed through decades of development along with in-the-field testing and research. They are, by far, the best Hydrographic chemicals on the market. We carry the full line of Activators, Base coats, Clears (High, Low, and Matte), along with any other solvents needed for the Hydrographic process. Our Sure-Grip coats are terrific for sporting and hunting equipment.
Quality hydrographic activator is one of the most important elements in producing a high quality, professional Hydrographic transfer. We offer selected formulas of activator depending on style of systems and images used. Such as manual systems, automatic spray systems and constant flow systems. Liquid Print's HD activator was formulated to enhance bringing out the full detail of our heavy saturated inked images. Liquid Print's activator is professional grade and used by commercial processors worldwide. This activator has also been specially formulated for our films, giving you consistent results and a vibrant image. (Activators are designed for the type of inks used by a particular printer. Activators go way beyond just transferring the image. One size does not fit all for stability and color.)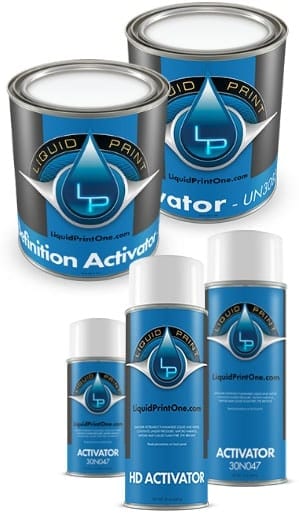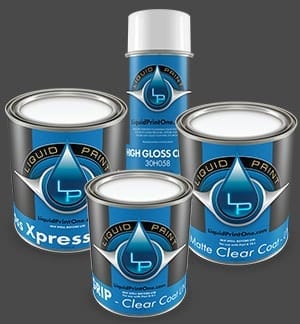 This matte finish clear coat is a high-quality automotive-grade clear used by professionals in the Hydrographic industry. It is perfect for almost any application where you don't need, or don't want, a shiny, reflective finish. It looks excellent with camo on bows, rifles, knives, etc. It's also impressive on automobile interior pieces, engine accents, ATV parts, cellphones and computer cases. The possibilities are limited only by imagination! It is important to note that this matte finish clear coat does require hardener. Also included, is a ratio guide to achieve the perfect mix of hardener and clear, and mixing instructions to assure proper blending of components.
This specially formulated clear coat has a low shine quality perfect for camouflage finishes. In addition, its unique properties as a "Silicone Grip" Clear ensure that, after a part is sprayed and dried, it will have a rubbery, silicone feel to it. It's also important to note that the silicone-like qualities of this clear intensify with every application of the product. One coat will give you a significantly more slip-resistant feel; two coats will leave it feeling like a slightly thicker piece of silicone, etc. This clear requires hardener to be mixed with it just prior to spraying. Instructions are supplied regarding the proper ratio and mixing instructions.
Using the latest technologies, this clear can be buffed or wet sanded in approximately 90 minutes at 70 degrees. This clear is designed to be used for spot/panel work due to the fast dry times. Use on all urethane basecoat systems. You can choose from four activators to regulate flash times for different job sizes and shop conditions. Hi-Gloss Xpress Clear Requires a Clear Hardener.
Designed to add an adhesion barrier so our base coat paints can adhere to plastic components. CPO Primer is an excellent choice when a high build 2K Primer such as our Urethane Primer is not required for the project. Saves prep and clean up time and can be used on any plastic directly excluding polythene. Can be used on polythene but we recommend to flame treat the plastic prior to application for best adhesion.
2K Urethane Primer (Gray) - A premium quality 2K-urethane primer surface that dries fast and build quickly. Excellent color holdout with easy feather edging with no ringing or lifting. 2K Urethane Primer Requires Urethane Hardener (60525)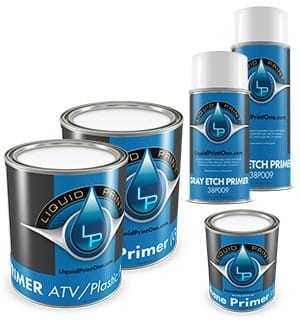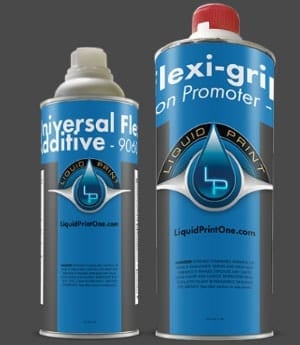 Flexi-grip Adhesion Promoter
Flexi-Grip adhesion promoter creates a strong adhesion coating between plastic and hard rubber parts. This product allows for a secure setting for your primers and base coats to almost any plastic or hard rubber surface. Flexi-grip also increases the flex abilities of coatings applied to your products.
A quality product that gives great elasticity to paint systems. For use on bumpers and flexible parts to reduce cracking and chipping. For use in all Acrylic Lacquers, Acrylic Enamel, and Urethane Paint Systems.
Hydrographic Water-Based Paints
Liquid Print's hydrographic water base, base coats are like no other finish offered in the hydrographic market. They need no special environment to cure in, natural ambient air, or forced heat cure with the same results. A durable, rugged finish that bounds to just about any sub-straight type of surface. No dipping window needed, once the base coat has cured you can dip or wait for ten years to dip. Once an item is dipped no kid gloves needed, the image will not smear once transferred into Liquid Prints hydrographic base coat. If the dip is not as desired just rinse your item completely that was dipped, wait until dried, base coat and dip again. Base coat right over the print. You can do this over and over again without the base coat checking or cracking.
Specially designed for use with our films and solvents. Available in Gallon and Quart sizes.