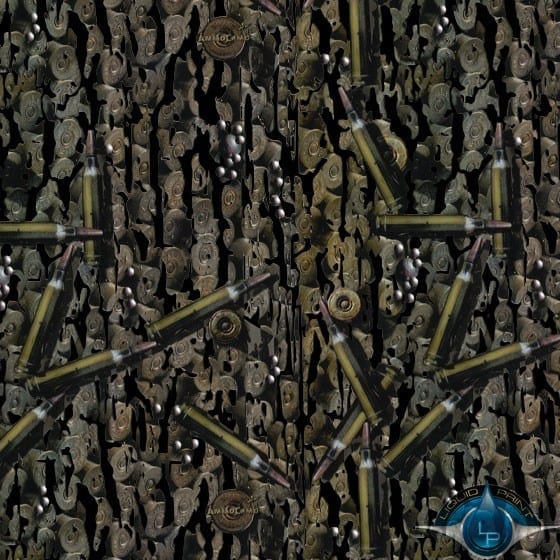 Ammo Camo is the SAFETY brand of camouflage. We represent the sportsmen of America by expressing PASSION for the outdoors. We promote and exemplify proper gun care, gun handling and gun safety through the use of ammunition in our camouflage patterns. The unique patterns we create are made entirely of images of ammunition supporting your right to WEAR ARMS while maintaining your right to BEAR 'EM!
In keeping with our commitment to safety and passion and protecting a legacy for future generations, we are currently forging supportive relations with IHEA (International Hunters Education Association), NRA (National Rifle Association), NSCA (National Sporting Clay Association) and State Wildlife and Fisheries Agencies.
This pattern works with any basecoat including black.
Buy Ammo Camo Now
Purchase Ammo Camo from our online store or call in your order during business hours at 903-939-3369.
Liquid Print is the leading North American manufacturer of equipment, supplies, and training for the Water Transfer Printing industry. Liquid Print is the innovator of the industry moving forward in development of operator friendly systems and products. Liquid Print provides films and equipment for manual, semi automatic, and fully automatic systems. We provide film and solvents for any style system; Cubic, constant flow, and manual. Find out more about products and services offered by Liquid Print at www.liquidprintone.com.