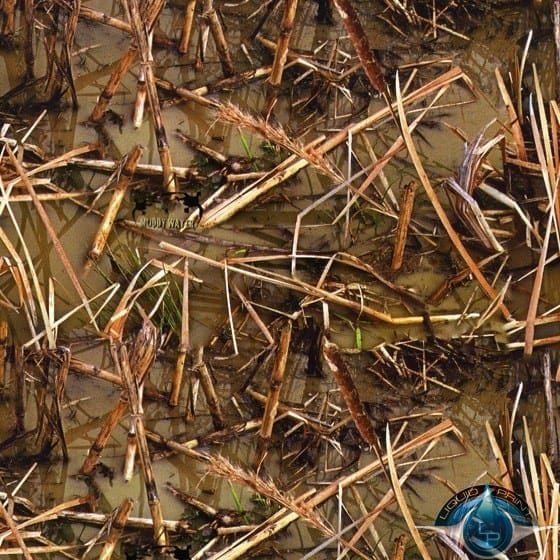 Liquid Print Inc. is proud to present: Muddy Water Classic
Two sizes: Full and Reduced
Theoretically, the main concept is to build camouflage that is 100% in focus started in 2007 when Muddy Water Camo Founder, Steve Maloney, who supported his passion with a day job just like most of us, decided things needed to get real. An obsessed waterfowler, Maloney spent more than 30 years in the outdoors in Mississippi. Steve saw a huge need in the outdoors that was being overlooked. "Why," Maloney wondered, "did every available camouflage pattern seem to look like a cookie cutter cartoon when it was to be used to hunt real life game in real life conditions?"
"Surely there has to be something out there that looks as real as the duck marsh I'm trying to hide in," he thought. He didn't realize it then, but that one simple statement would revolutionize the production and design of camouflage.
When Steve couldn't find a "real" looking pattern in the market, he decided to create his own. Four years, 1,059 photographs and 103 pattern drafts and redrafts later, Muddy Water Camo hit the marsh and the market. We call this pattern "Classic," and it's the first and only camouflage to incorporate water and reflections in a photographic pattern designed specifically for hunting waterfowl. Today, the patent pending Muddy Water camouflage development process is the most detailed and realistic camo on the market.
Both Muddy Water films are 1 meter wide and designed to work with a tan base.
Purchase Muddy Water(Full) from our online store.
Purchase Muddy Water(Reduced) from our online store.
Or call in your order during business hours at 903-939-3369. You can purchase any of our products online. Liquid Print is the leading North American manufacturer of equipment, supplies, and training for the Water Transfer Printing industry. Liquid Print is the innovator of the industry moving forward in development of operator friendly systems and products. Liquid Print provides films and equipment for manual, semi automatic, and fully automatic systems. We provide film and solvents for any style system; Cubic, constant flow, and manual. Find out more about products and services offered by Liquid Print at www.liquidprintone.com.