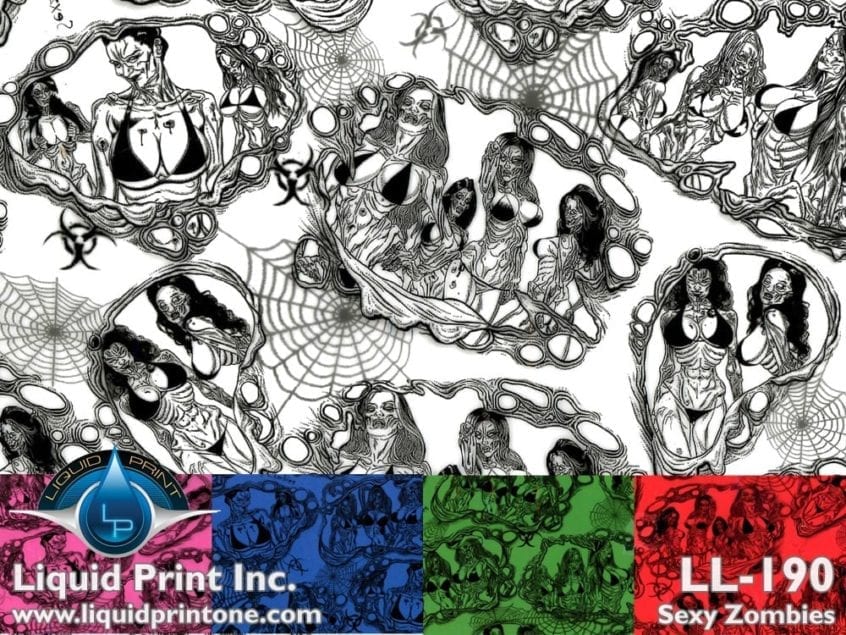 Liquid Print Inc. is proud to announce the arrival of Sexy Zombies in Tyler, Texas. Patterns featuring illustrations by Rob Sacchetto, Killer King of online hand drawn zombie portraits, are now available.
Sexy Zombies, featuring a torn flesh design, is only further highlighted by the beautiful undead zombies found inside the torn skin. This pattern is on a clear background, which allows almost unlimited customization opportunities.
Rob Sacchetto has been a freelance artist for almost 25 years. In late November, 06, he launched the very first online service, www.zombieportraits.com. Through some relatively simple online marketing, the business literally exploded. Since it began, over 1000 portraits have been sold to a worldwide market. Because Rob is an illustrator/painter, all pieces are original hand painted portraits of people as zombies… no computer manipulation is used, just old fashioned watercolor and ink.
Future patterns featuring illustrations by Rob Sacchetto are currently in production. Which can only mean one thing: More zombies are coming!
Liquid Print is the leading North American manufacturer of equipment, supplies, and training for the Water Transfer Printing industry. Liquid Print is the innovator of the industry moving forward in development of operator friendly systems and products. Liquid Print provides films and equipment for manual, semi automatic, and fully automatic systems. We provide stock to high UV resistant ink films depending on our customers needs. We provide film and solvents for any style system; Cubic, constant flow, and manual. Find out more about products and services offered by Liquid Print at www.liquidprintone.com